If you are passionate about writing, try starting a blog.
People create a blog for various reasons – to share opinions and experiences, market products or services, or educate people on a certain topic.
Building niche websites will increase your chances of success. So, instead of creating a generic food blog, try focusing on one type of cuisine.
For example, The Book Satchel is a blog on book reviews and recommendations. Other popular blog ideas include travel, food, health, and lifestyle.
Although blogging can be lucrative, it takes time for your blog to become profitable. To speed up the process, be consistent, maintain high quality, and apply tried-and-true content marketing techniques.
With Hostinger Website Builder, you can consistently offer new content with the help of AI Writer.
Before creating a blog post on our builder, enable the Blog feature from the template editor → Blog → START A BLOG.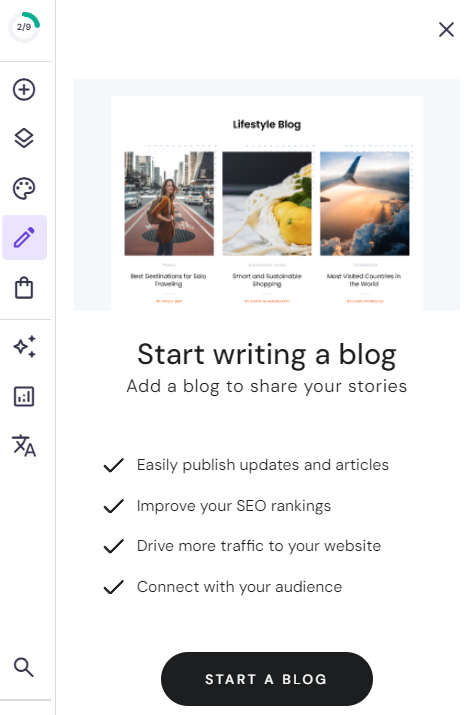 Here's how you can create blog posts with our AI writer:
On the template editor, go to the Blog page and click on Edit Post.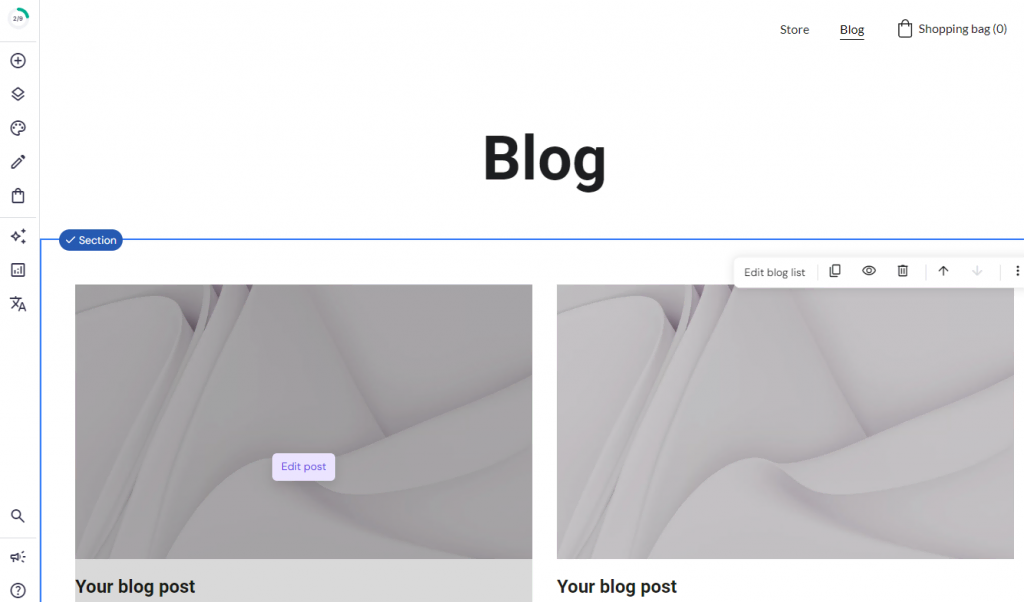 Locate the My post content text box, click on it, and choose AI Assist.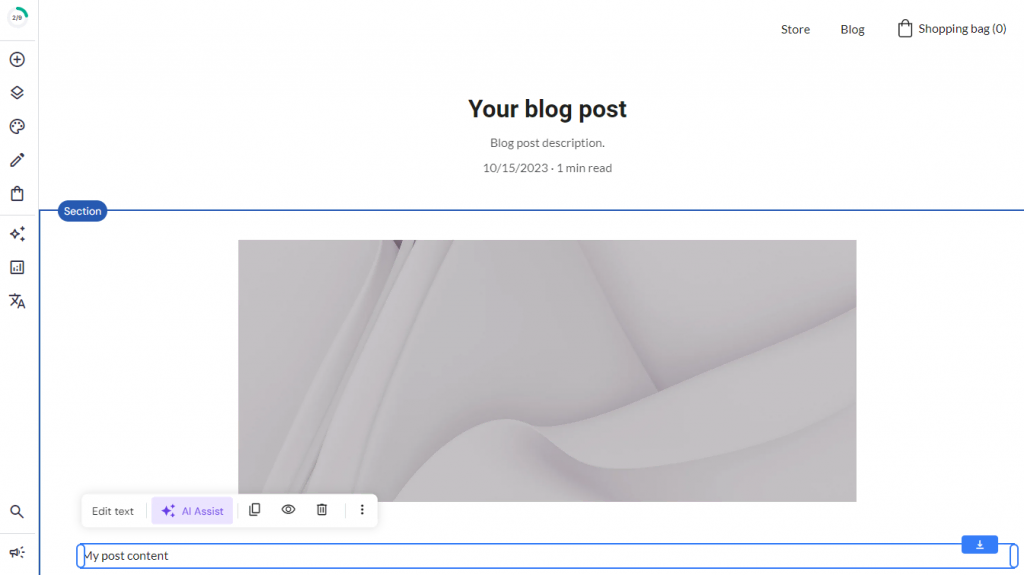 Write a short description in the text box, then click GENERATE TEXT.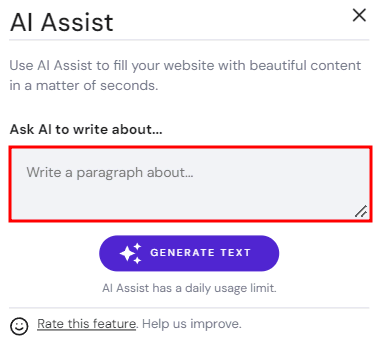 Wait for the AI tool to write the blog post. Once finished, choose to Discard or Keep the generated text. You can also tell the AI assistant to rewrite the content.

Customizing and designing your website on the template editor is easy. For each of the blog sections, you can modify the color, background, and layout.
Once you grow your reader base, implement content marketing strategies to monetize your blog. Methods to make money blogging include selling ad spaces, becoming an affiliate, and accepting brand sponsorships.

3. Find Freelance Work
Freelancing offers many online income possibilities for various skills and interests. Here are some examples of the most popular freelance roles:
Graphic designer. If you are passionate about art, consider becoming a freelance graphic designer. Crafting stunning visuals for logos, posters, and advertisements is among the best ways to make money online for creatives.
Web developer. Building websites for clients is a lucrative option if you're skilled in web development. To achieve success, build websites that are both functional and visually appealing.
Virtual assistant. Provide administrative support to businesses by carrying out tasks like email management, scheduling, and document preparation.
Social media manager. Freelance as a social media manager to help businesses and individuals grow their online presence. Responsibilities may include content creation, strategy development, audience engagement, and performance analysis.
Data entry specialist. Attention to detail and accuracy are essential for data entry roles. This freelancing job mainly requires you to input data into spreadsheets, databases, or other online platforms.
Some of the best freelance websites to find work are Fiverr, Toptal, and Upwork. Whether you're looking to earn money online on the side or transition to full-time self-employment, these platforms provide freelancing opportunities to achieve your financial goals.
How much you earn from freelancing will depend on factors like your expertise, niche, location, and service demand. Skilled freelancers can earn anywhere from a few hundred to several thousand dollars per project. Some experienced professionals can get even higher rates.
Fortunately, freelancing is a highly scalable business model. If you're able, you can take on multiple projects simultaneously and steadily increase your income over time.
Suggested Reading
How to Become a Freelance Web Developer
How to Get Clients as a Freelance Web Developer
Best Freelance Websites for Hiring Top Developers
4. Develop Websites for a Living
The average web developer salary is around $50,900/year. Moreover, the employment of digital designers and web developers is projected to grow by 16% between 2022 and 2032.
To help you stand out among competitors, choose a web development specialization, like UX design or back-end development. You can also participate in a coding boot camp like Flatiron School to enhance career advancement opportunities.
Due to the high demand for these jobs, website developers should jump into the industry and start creating websites for multiple clients.
Hostinger Pro Panel can help you manage multiple client websites. From setting up the hosting environment to adding, removing, and monitoring client websites, you can easily perform these tasks from our Pro Panel.
Another advantage of using Pro Panel is that you can earn commission by purchasing Hostinger plans for your clients directly from the platform.